Events and Happenings
June guest artist and macrame and gemstone jeweler, Andrew Feldman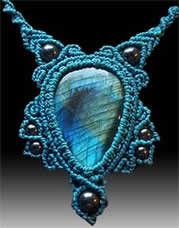 The public is invited to attend a reception on Thursday, June 14, 2018 from 5:00 to 7:00pm at Made In Chenango Gallery and Gift Shop in downtown Norwich to welcome their June guest artist and macrame and gemstone jeweler, Andrew Feldman, from Mt. Vision. Andrew Feldman is a passionate macrame artist from Patchogue, Long Island and currently residing in Mount Vision, NY.
He was introduced to macrame at a summer camp when he was 8 years old. It wasn't until he was in his early 20's that he began his hobby of making macrame gifts for his close friends and family. He found joy in making unique bracelets, pendants, and necklaces with hemp cord. After a couple years, close friends of Andrew's encouraged him to start selling his art at local events and venues under the name Happy Hempin'. He has since then transitioned from using hemp cord, to using a more durable waterproof waxed polyester cord. He also loves to incorporate gemstone cabochons. The satisfaction of watching something grow from just a few knots to a beautiful one-of-a-kind piece of artwork is what he really loves about his craft.
Please join us in welcoming Andrew Feldman at his reception or stop by throughout June to see his macrame craft.
There's something NEW at Made In Chenango!
We will be selling Heather's Artisan Breads and Craft Candy on Thursdays, Fridays 11-5 and Saturdays 10-4. Stop in and see what goodies, cookies and handmade candies we'll have to delight you. Check us out on Facebook to see a listing of the breads and candies that will be offered that week.
For more information, call Made In Chenango at 334-3355 or stop in Tuesday through Saturday at #27 N. Broad Street, Norwich NY or like us on Facebook