Events and Happenings
Welcome Newest Member Elizabeth Yates
Elizabeth and her husband Robert design and create Copper Fire Paintings. They have been using copper as their medium for over 20 years. Only the heat of a torch is used to reveal the colors in copper.Studio Yates is located in McDonough, NY where the Yates' currently reside. They exhibit their works mostly in New York State as well as art shows along the east coast. Robert received his Bachelor of Fine Arts in Sculpture from the Kansas City Art Institute in 1993. Elizabeth received her Bachelor of Arts in Sculpture in 1998
Please join the members of Made In Chenango Gallery and Gift Shop in welcoming their November / December guest artist, Katherine Casteneda from Franklin NY.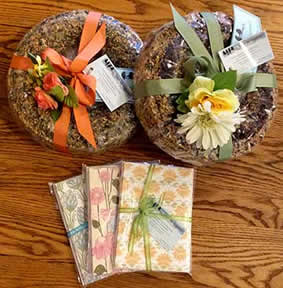 Ms. Casteneda is an artist, a baker, a nature lover and wild about birds and, together with her husband, has a website, Etsy and Facebook page called "Who's My Sugarpie?" as an outlet for their bird seed wreaths, bird houses, notecards and hand salve.
Katherine's Bird Seed Wreaths started about 4 years ago when she thought, "Hmmmm .I love to make cakes but they don't ship well and I love birds so why not create a special recipe for them and make a cake out of seeds!" She says it is a lot like mixing up cakes only the main ingredients are seeds- not batter! Her note cards were originally designs for wallpaper but transformed them into cards and envelopes to "elicit heartfelt letters and sentiments with pen in hand." Ms. Casteneda says, " I get so much joy when I hear from my customers how they have enjoyed watching birds visit and nibble away at our Seed Wreaths. I am truly honored and excited that I have been invited to be the November guest artist at Made In Chenango Gallery"

Small Business Saturday Nov. 24th 10:00-6:00
Heather's Artisan Bread & Cookies
Sample FoJo's Made In Chenango Coffee
Enter Norwich Merchants Money Drawing

For more information, call Made In Chenango at 334-3355 or stop in Tuesday through Saturday at #27 N. Broad Street, Norwich NY or like us on Facebook